Ways You Can get the Most Out of Your Accounting Software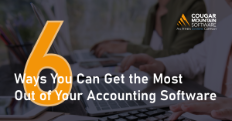 If you are still managing your accounting with unsafe spreadsheets on your desktop and physical ledgers, you have a lot to catch up on. Modern businesses need modern tech that provide exceptional accessibility to run the business from practically anywhere.
In fact, all you need is an all-in-one accounting software that addresses your current and future accounting needs. Robust accounting solutions provide the best business insights in just a few clicks. Here are six ways you can get the most of out our accounting software.
Accuracy and Operations
Errors are inevitable when a human handles a lot of numbers. Some business owners might even say accounting and auditing is the most challenging part of running a business. A simple, single mistake can blow a massive hole in the ship. To minimize the chance of errors and keep the boat afloat, many resources and valuable time are invested.
On the other hand, perfect accounting software can solve all the problems for you and your accounting team. The chances of errors in an accounting software's data output are almost zero as they run with pre-set equations and formulas. Any big complex calculations are quick, error-free, and reports can be generated with a single click.
Automation to Save Time
Modern accounting solutions use AI and ML to infuse automation into possible accounting areas like data processing, analysis, and reporting. Hence, your accounting team can concentrate on other essential accounting aspects rather than wasting time on a process like uploading the data, creating manual reports, and so on.
Don't get carried away with these simple benefits of having accounting software to help you. You can enjoy the advantages mentioned above and much more only when you choose the right accounting solution. The more it suits your business needs, the better your ROI.
So how to choose your accounting companion? It's never easy but, if you carefully consider the following tips for choosing your ideal fit accounting software, you'll be in good hands.
Fix a Budget
The first and the foremost thing you should decide is the budget. Get clear about how much money you are ready to invest in an accounting solution and look for the market option. For organizations that cannot afford the enormous upfront cost, subscription-based cloud accounting solutions are a good option.
Understand your needs
To make the perfect software purchase, you must clearly understand what your business accounting needs. Buying a software with a feature that your accounting will never use make no sense. Professional service businesses will bill their clients based on time, and hence they will need features like Time & Billing, but other everyday businesses won't need them. This is precisely the difference you need to understand. The best way to understand your accounting needs is to talk with your accounting team. Their inputs can help you make the right decision.
Choose a solution that grows with you
Scalability is a vital factor when you consider any software purchase. As your business grows, your accounting needs also grow. Choosing a software that your accounting needs will outgrow in a year or two is a waste of money, as you have to do the whole process of hunting and deploying the accounting software again.
The accounting solution you choose must grow and shrink along with your accounting needs. Accounting solutions like Cougar Mountain Software's Denali Business have bundled accounting solutions and add-ons you can choose based on your needs.
Concentrate on features
Only the accounting software with the right set of features can maximize your accounting team's potential. Anything less than that, you have made a bad investment. At least not the best bid.
Features like Invoicing and billing, Tax and Inventory management, Reporting & Reconciliation, Accounts Payables & Receivables, Ledgers are some of the mandatory features your accounting solution must-have.
Often businesses have separate invoicing and payroll solutions even before buying an accounting solution. This will only increase the complexity and workload for your accounting team. Hence, choosing an accounting software that integrates well with all the existing solutions is a smart choice.
Take time to research
There are too many fishes in the pond. It's better you do your homework to analyze which is the right catch. Having so many options also allows you to compare and select the best. Get in touch with multiple vendors and grab the best deal out of them.
Also, don't forget to make the best use of free trial periods. If the product doesn't have a free trial period, take some time to sit for a complete demo with the product experts.
Decide deployment type
Most of the market products come with multiple deployment options, and the purchasing organization can choose the type of deployment based on their needs. All the three deployments types have their own pros and cons, but organizations mostly prefer cloud-based deployment over its traditional and hybrid counterparts.
Cloud-based software comes with minimal up-front expenditures, literally zero hardware cost, and no extra IT team to manage. The service provider takes care of everything from deployment to maintenance.
The benefits of cloud-based accounting are enormous. Check out our Top 5 Reasons You Should Be Migrating to Cloud Accounting blog here.
Wrapping it up
The software you choose can be a game-changer for your organization. The more time and attention to detail you put into selecting the right fit, the better chance of making the right software purchase. Put your shopping boots on and start from here.
Accounting Software, Accounting solution, software purchase.