A Quick Guide For Growing Your Nonprofit's Social Media Presence

Your nonprofit may not have the 15 million followers on social media that you dream of. Maybe you're struggling to break the 100 follower mark. Whatever the case may be, the good news is there's no better time for you to increase your outreach and your followers. Social media is constantly moving forward and you can too by discovering the right approach with a solid plan.
When developing a strong content strategy, there are three key areas where nonprofits often fail. For one, nonprofits often assume the goal of social media is to be a good source for revenues and donations; two, they believe they need to be relevant to a broad audience; and, finally, their content is erratic and only highlights events or charity works. If you want to generate a powerful online presence through Facebook, Twitter, or LinkedIn, here's how you can avoid these problems.
1) Social Media is the Best Tool for Increasing Revenue & Donations
There are close to 3.5 billion users on social media today and it's not slowing down in the coming years. There's no doubt it can be a strong tool for your nonprofit because results show that 33% of online donations are inspired by social media, according to Global Trends' Giving Report last year. However, that doesn't mean you'll start to see signs of revenue from social media right away.
The problem most nonprofits struggle with is their approach. Many assume that since there's such a broad number of users on social media, their content needs to convince people to donate. This might dissuade followers as it can come across as begging. Instead, your approach should be aimed at retaining your previous donors and here's why:
The costs are cheaper to retain them than to find new donors.
You can have a steady income of revenue and funding.
They are already aware of your cause and have invested.
Monthly donors give, on average, 42% more per month than one-time donors.
If you look at some of the more successful nonprofits on social media, you'll see they rarely reach out asking for donations, yet, they are constantly met with success. They dedicate their posts to highlight the goals they accomplished through the donations they received. This makes the people who donated feel like they have achieved their own personal success by helping that nonprofit. They also post content that has to do with their mission. Take this post for example: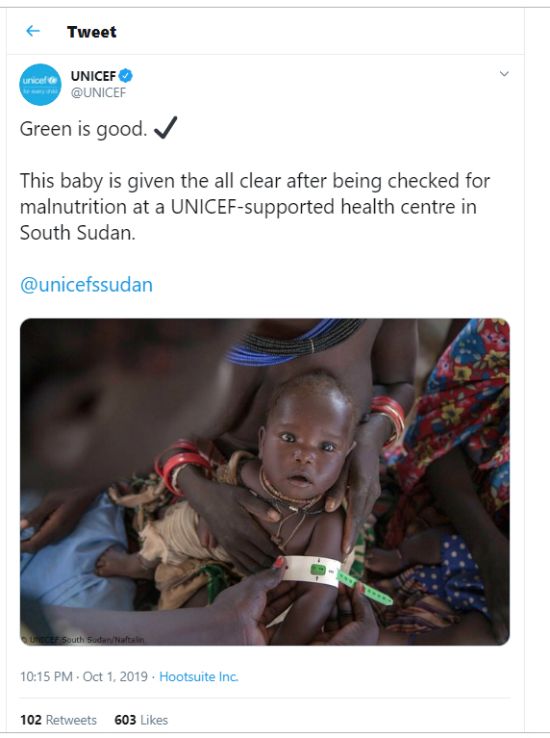 2) Relate to a Large Audience and Engage with as Many Followers as You Can
Social media has an obsession with how many followers you have, how many retweets or "likes" you can get, and how many people you're friends with. For a lot of people, this equates to relevancy and popularity. It's an easy mentality to fall into, especially for nonprofits who want to bring more awareness to their cause. The only problem is there isn't a difference between 40 followers and 5,000 if only ten people are making regular donations.
The followers you want are the ones who actively donate and volunteer for your nonprofit. While your social media should be targeted toward them, first you need to know who "they" are. If your demographic's age ranges from 25-40, think about what they would like to see. What areas of interest do they have? Where do they work? Why do they donate to your cause?
Your nonprofit might already have an idea of who's donating, which is a good start. The next step is to create content that's geared toward them. Get an idea of who they are by actively engaging with them offline during an event or an outreach. You can even send out a form for your donors to fill out that asks questions about their demographic makeup. From there, you can start to build an audience.
3) Only Use Social Media to Post About Upcoming Events & Fundraising Opportunities
Nonprofits are surprisingly hesitant about investing their time in social media given how much opportunity is available. Instead of jumping right in, they dip their toes in to test the waters and never fully immerse themselves. They might devote a couple hours a week to post about upcoming events or fundraising opportunities. This type of content is informative but also repetitive and after a while people lose interest. However, if you want to make a splash online and your time is limited, you can still be effective, you just need a plan.
Creating a plan starts with consistency. Consistency is key to creating a presence for your nonprofit. Starting out, your goal should be to post 2-3 times a week. Having enough content to post about might be your biggest obstacle. Here's a good list of four topics you can use to generate new content.
Write a post that recognizes your donors, supporters, volunteers, and employees.
Share content that's engaging to your group and others within your group.
Solicit donors for help.
Post a quote or content separate from your organization that's funny, likeable, and human.
You can create a schedule to post one of these topics every other day of the week, like this: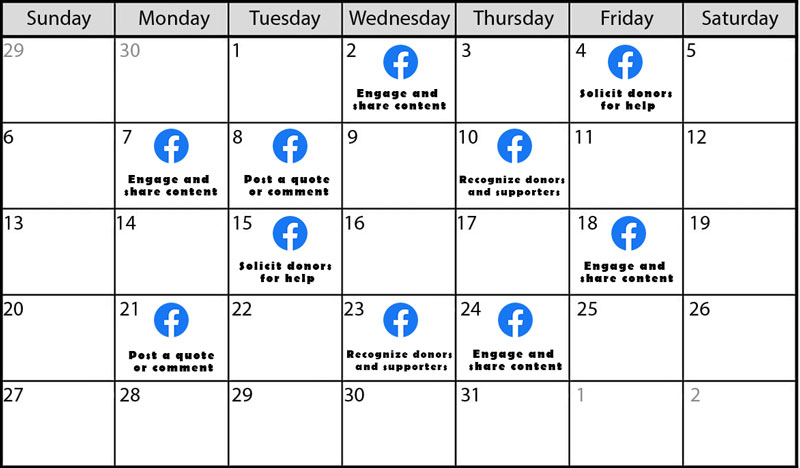 Each post should be spaced out throughout the week.. The best times to post are usually in the mornings between 7:00-8:00am and 11:00am-1:00pm.
One Final Note…
You may not get the same 23 million followers as a large nonprofit like National Geographic, but that shouldn't matter as long as you're building support for your nonprofit within your community. Be sure to start out by strengthening your base with a solid plan that's aimed at your demographic. For starters, that's all you need to widen your base and hopefully, down the road, you can increase your monthly revenue.