How Denali BI Brought a Small Textiles Company the Same Insights and Visibility As a Team of Analysts
Click to download the Performance Textiles Case Study as a PDF.
Company Summary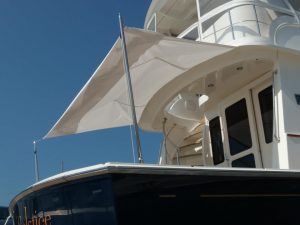 Performance Textiles is a leader in the distribution and outsourcing of marine textiles from England to boat manufacturers within the United States.
With a staff of only seven employees, Performance Textiles has continually surpassed the limitations of what a small company can do. The majority of their sales have been in the powerboat industry and in the last five years, their sales have nearly tripled. They believe this is due to a shift in the market where people are more interested in powerboats which don't require as much skill and experience as other boats, like yachts, do.
While they assumed this market shift was happening, they didn't have any solid evidence to back up their conclusions. Other boat companies and manufacturers were experiencing a decline in their sales and to avoid a similar fate, Performance Textiles knew they needed the data to inform them. They turned to Denali Business Intelligence in the hope of gaining more insight into their sales to stay ahead of the curve and avoid catastrophe. What they learned from the platform, they couldn't have expected.
The Problem: Useless Data and Zero Insight

"We knew we had growth, but didn't know in what areas. Now, we can divide our sales down by product to view where our growth is coming from and which areas are shrinking."
For Performance Textiles, data was never easy to obtain. If they did obtain any, it was never current enough to make a positive impact on their sales or decision-making process. Most of their success came from market trends they followed and boiled down to luck.
With summer on the horizon, however, they didn't want to miss an opportunity to increase their profits since sales typically go cold in winter. By trying out Denali BI, Performance Textiles hoped to take their flat and unreliable data and convert it into useful information. The insights could then identify which products were selling and which ones weren't; they could also discover new opportunities, and boost their summer sales clear into winter.
Denali BI Solutions: Avoiding a Potential Pitfall

"Because we're such a small company, we didn't have the size of staff to run reports or the resources to gather the information we needed; whereas, now, if I think sales are down, I can open this dashboard and have access to all that information at my fingertips without having to wait for any reports."
The dashboard we assembled was designed to take all of Performance Textiles data, including past, current, and future sales history, and combine it with customer information so they could quickly see where their customers were located, how much they spent, and which products were their best sellers.
With this newfound information, Performance Textiles finally gained the visibility they desperately needed. If they wanted to take a closer look into their sales, they could drill down on any product to view a graph that tracks the product's performance over any period of time for up to three years. There were also products that Performance Textiles thought of discontinuing due to poor sales, but when they reviewed the dashboard, they found the products were actually performing better than expected.
Sample Dashboard


The dashboard's insights didn't end there, however, as it detected a problem they couldn't have foreseen. Their sales for the month were experiencing a drastic hiccup. The trajectory for the sales month was half of normal expectations. Without having Denali BI, there wouldn't have been any way for them to notice this trend and brace for impact in time. Instead, they alerted the manufacturers in England where their products were built to lower expectations. They then thinned out inventory costs to lessen the blow and instead of damaging their company, they profited.

"When I click on a segment in Denali BI, it automatically tells me where my sales are at, and I can see the volume of purchases by my top customers."
Sample Dashboard

Impact: Looking Ahead
Performance Textiles was under the impression that if they wanted data in real-time, they would have to hire a team of five or more professionals to pull the data, compile it, and lend insight. Being such a small company, they didn't believe this information would ever be available. Instead, they got a small dashboard that could answer all their sales questions. They plan on continuing with Denali BI and keep using it as a tool to watch over their company and guide their decision-making.

"It's not even my best selling products I can look at, I can look at even the smallest products and see how it's performing."